 Over the past 30+ years, since taking up residency in the UK, I have worked as an artist and teacher. My main aim has been to raise the profile of the arts and crafts of Asian Women, as they are an integral part of daily life for those women throughout the world.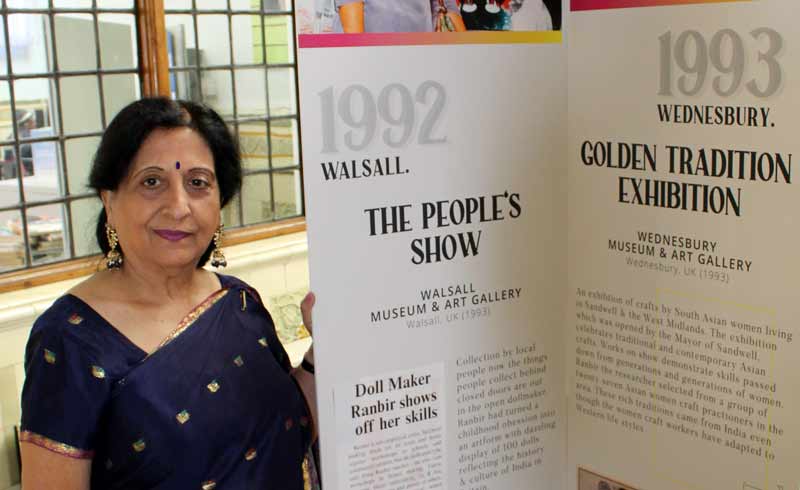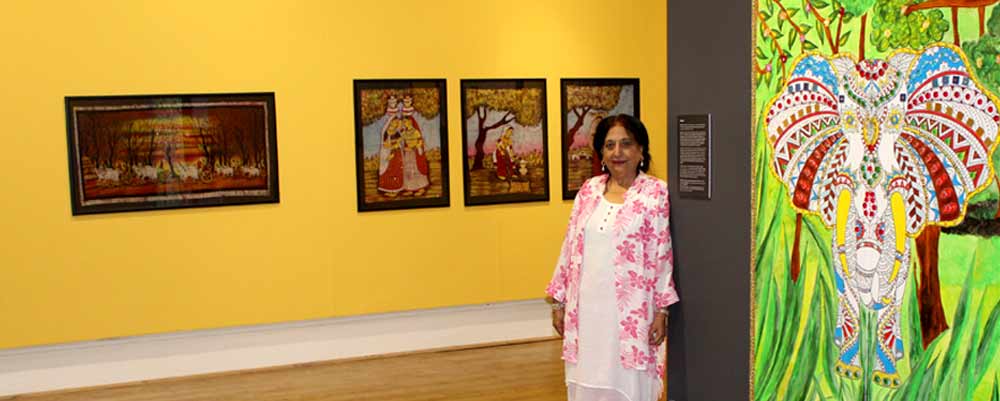 My early life was spent both in India and Uganda, before she moved to the Uk in 1988, Whilst in India, she presented arts and educational programmes for national television. My work in the UK has included teacher training and working in primary and secondary education, as well as exhibiting my work in galleries and museums. I believe art is a powerful tool for communication which can create harmony and understanding. I have returned to India on many separate occasions, to accept awards for my contribution to keeping Indian culture alive in the UK.
My innovative workshops are always shared with her 3 daughters, to whom I have passed on my skills and techniques as part of a family tradition.
The 2006 Rangoli project was a central part of the North East Regional Museums Hub's World Cultures Programme. The vibrant celebration of cultural diversity and creativity composed a wide range of exhibitions, events, and activities all of which were developed with communities and artists across the region. On the back of this successful exhibition, a book was released titled "Rangoli Revealed" which documented the Inspirational Indian art in Museums & Art Galleries across North East England.
In 2002 I developed the initial concept of the "Food is Fun" project. The result of which paid testimony to the productivity of community regeneration as well as promoting a Healthy Eating message. I was able to get people involved with food in a fun way, bringing fruits and vegetables to the front of people's minds through my cookery and craft-work sessions. Local people were invited to a series of creative workshops led by myself and these sessions were the source for many of the recipes in the book. There are 22 fruits and vegetables based recipes for everyone to enjoy in the "Food is Fun" book.
Due to my art of creativity Nationally and Internationally I was given the opportunity to create the Largest Rangoli in the World – Nottingham. When I had completed the magnificent art piece my name was entered in the Guinness Book of Records.
I'm am currently working for EKTA TV presenting a weekly lifestyle show and Raaj FM, after spending 2 years working for Kanshi TV as a Kalakrityi craft presenter. I have also appeared on the local BBC and Channel 4 television programmes, on Midland Today News, also on Collectors Lot & Waterways after I created the first ever floating Rangoli. 
I offer a large range of services which include Rangoli Commissions for Festivals, Melas, Weddings or any celebrations. I have also developed a range of popular Arts & Crafts courses, training, workshops and community programmes.
My work over the last 30+ years in the United Kingdom has been extended in different creative art forms mainly in; Indian Embroidery, Asian Cooking, Fabric Painting, Tie & Dye, Doll Making and Rangoli installations.
My aim is to bring South Asian Arts & Crafts to the wider general public, this will allow others to understand that my work crosses both National & International boundaries to deliver my Artistic Knowledge & Understanding of a wider platform.
Ranbir has been a lead artist as part of our artist residencies and workshop programmes at WOMAD festivals around the world. Her knowledge of the traditional crafts of India is remarkable and her ability to share that knowledge and inspire young people is key to the consistently high-quality results achieved.